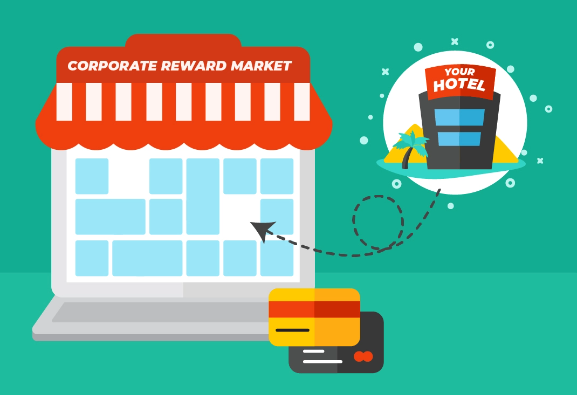 Imagine if you could sell a second product to your corporate travel clients? Hotels in Australia and New Zealand are doing just this. One of our clients is an Australia hotel chain, they have average voucher sales of $AU54,800 per month.
If you move your stay vouchers to a digital system, you're in a better position to entice big business to view your hotel as a Christmas reward for staff, suppliers and customers. After all, you already have a trusted relationship as a supplier, so its really just another arrangement. Fortunately, modern voucher accommodation makes the technical side of things align nicely with corporate needs for reporting and accountability etc. You've probably guessed, we are not talking about paper gift vouchers.
1
Corporate rewarding, why corporates are saying yes to digital hotel gift vouchers
They've worked hard all year, now it's time to collect their reward. With a high focus on me-time, family time and de-stressing, hotel stay vouchers are the perfect reward. Corporates say to their employees, bring your families and enjoy. All you have to do is out together some bespoke packages, such as those below:
1. Hotel gift voucher.
2. Restaurant gift voucher.
3. A spa gift voucher.
4. Three course lunch or dinner for two.
5. 60 minute signature massage.
2
The business of corporate rewards and bonuses
Keeping track of high achievers is a big business, and presenting corporates with an easy to use digital tool means it can also be easy to manage. As much as they keep track of travel expenses, corporates want to track their reward system as well.
Corporate clients can expect board-ready reporting features from their bulk purchase of stay vouchers. Before you invest in a gift voucher system, make sure it's up to scratch with our checklist.
1. The system should be designed to sell, manage, and track in bulk.
2. The workflow is automated, so accounting staff can easily achieve compliance.
3. Your client can view and manage all orders and payments. You have editing control.
4. Both you and your client can track, measure and report on all transactions in real time.
5. You can track a hotel sales campaign with Google Analytics ID tracking.
6. There is a full audit trail.
7. Promotions or campaigns can be managed and tracked.
8. Loyalty Members (your corporate client) can be given discounts through promotion codes.
9. A promotion code can be created for exclusive sales or events to corporate clients.
3
Things to look for in a digital gift certificate you are trying to sell to corporate clients
Technology is changing all the time and so you want to make sure your investment is going to be regularly updated and not one-time software.
1. Your corporate clients will be captivated by interactive gift vouchers. We're talking about gift vouchers that offer a truly engaging experience, making the gift extremely special and not just a regular voucher.
2. Ability to allow guests to check the balance or validity of their voucher from your websites.
3. Where you have hotels all over the world, set the default currency to the local currency at each hotel.
4. Ability to turn on multi-lingual functionality. Where your corporate clients are in many countries, website users can automatically default to the language of the user's origin.
4
Going forward, how your success is our success
Your investment in digital voucher accommodation should signal the beginning of a relationship with a trustworthy web developer. We know you will want to be able to offer your corporate clients a product that continually adapts with the latest trends. Here is a list of expectations your hotel should have of your gift voucher provider.
1. Automatic updates with regular version releases.
2. Real people who are available on the phone anytime, response to an email within 2-3 hours, and 24/7 support.
3. Free online training at set up, then training on demand.
Here is what many hotel owners want to know about our gift voucher system.
1. How do the stay vouchers work with my current website? Answer: add a new 'Gift Vouchers' item to the menu and link it to your new gift voucher website. You can also add banners and links to your restaurant and spa pages.
2. Explain how the money moves? Answer: The purchaser pays you directly, the timeframe between the online transaction and payment to the hotel is at the same speed as if a customer was paying by credit card.