Hoteliers are cashing in on the appetite for stay vouchers, saying there is a large demand for digital vouchers across all sectors of the business.
A manager for a large hotel chain says they are now selling the digital gift vouchers across 70 percent of their hotels, with average monthly sales sitting at $55,000 per month.
"Previously, gift vouchers were not something our hotels focused on. The digital stay vouchers are a game changer.
"We are finding voucher sales are across all parts of our business, and there is equal enthusiasm for vouchers in food and beverage, and for the spa. It's not just about stay vouchers for accommodation."
He says each hotel worked with the gift voucher platform HyperGift to create an offering that is unique to their hotel.
"We wanted our hoteliers to be easily able to create any package conceivable."
There is a high demand for stay vouchers that also offer a spa and or dining experience.
"Or perhaps your hotel has a fabulous chef and there is high demand from locals wanting a dining experience only?
"We are finding that bringing new people into one of our hotels is having a great spin-off effect. People say to us, "Oh our friends came here for dinner a few weeks ago, and they suggested it would be a good place to stay." We have guests saying they chose to stay with us because their friends came to dinner, we look at our records and see the diners were here using a gift voucher."
He says it's important to tailor your hotel stay vouchers, so they are for the stated gift, or else for the experience in dollar value, or both.
"Customers buying the stay vouchers are a mix of corporates and individuals. There is a definite trend for someone to stay at our hotel courtesy of a corporate voucher, and then the recipient goes onto purchase a gift voucher."
Management is now of the view that the hotel gift vouchers can be sold to anyone, and the manager says when an individual hotel starts to focus on a particular product, it takes them into exciting new territory.
"Our spa facilities are first class, and when you start to look at our individual products, the possible ways of marketing the spa are endless.
"For instance, walking down the high street there are endless signs out advertising lash and brow tints, well we can do that! Package it up with a glass of bubbly, make it for two, and there you have the perfect mother-daughter gift experience."
"Potential customers say they love the opportunity to enter our hotel, it's a beautiful space with a cool ambiance.
"Plus, you can have an alcoholic beverage and be pampered, and that is a significant advantage over a high street establishment.
"Many locals have never set foot in the hotel and feedback we are getting is there is significant curiosity around the hotel. Although the actual spend at the spa may not be significant, it is creating a buzz around the hotel."
The manager says voucher accommodation is also a relatively easy way for corporates to purchase hotel stays for their employees when working in another city. He says the add-on to that, is offering stay vouchers to non-travelling employees as part of the company's recognition programme.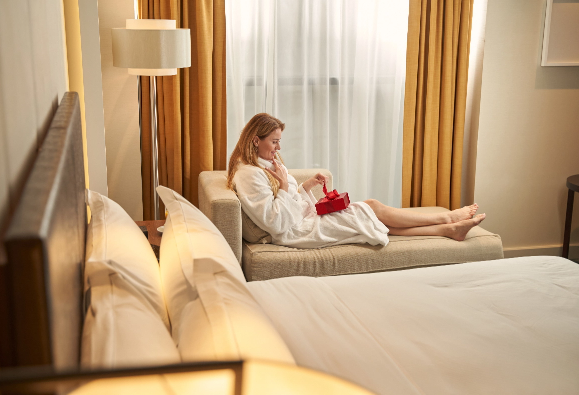 "These people wouldn't normally be staying in the hotel as part of their day-to-day work, but they are happy to be able to join in the chatter around the office water cooler, 'about the time I stayed in the hotel you guys are always talking about'.
He says the voucher accommodation is a great opportunity to build the hotel's brand, particularly with corporate guests. He says each hotel makes sure to customise their voucher with a photo of their hotel, the logo, business details, brand colours and fonts.
"Some of our hotels have solid bookings for some corporate clients. They know what these people want, and have tailor made stay vouchers for these customers."
Over the years the hotels have tried a range of gifting options, and he says the stay voucher system offered by HyperGift ticks all the boxes for their hotels. He says the digital system addresses many of the traditional problems experienced by front of house staff and finance staff.
"There is complete control over what's happening with the digital voucher."
He says hotel staff can view, manage, and edit all orders and payments. There is real time tracking to measure and report on sales.
"Feedback from our hotel staff is they wish this system had been in place years ago."
Book below and find out how HyperGift® can generate additional revenue for your Hotel through online Gift Voucher sales!