Frequently Asked Questions
How does it work with my current microsite/individual property website?
You can simply add a new "Gift Vouchers" item to the menu of your microsite and link it to your new gift voucher website.
You can also add banners and links on pages throughout your website, such as your restaurant and spa pages, to further encourage purchases.
Can I update the website myself?
Yes, you can add new vouchers, edit existing vouchers and remove vouchers, without talking to us.
How are the vouchers sent?
The vouchers are automatically sent via email with a PDF gift voucher attached. The user purchasing the
gift voucher can email it to the giftee direct from the website, or they can email it to themselves.
What do the gift vouchers look like?
We have templates setup for each brand, two examples are pictured.
What happens if we have not worked with your brand before?
We will create a template for you for free.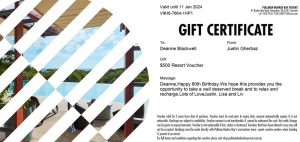 Can we customise the voucher design more?
Yes, there may be additional costs involved depending on the scale of customisation you require.
Where does the money go?
Directly into your bank account.
What is the timeframe between the transaction being made online and payment being made to the hotel?
This is down to how fast banks process the transaction. It will be the same time frame as if a customer
were paying with a credit card in your hotel.
What are the merchant fees?
We typically use Stripe, depending on your country. Please refer to the pricing page for further details on merchant fees relative to your country. 
Assuming the payment made is full voucher price less the merchant fee?
Typically yes, depending on the settings of your payment gateway.
Is the payment made after each transaction or pooled together on a monthly basis?
You can select how you want payment to be made in the settings of your payment gateway;
• Individual Payments: If there were 10 separate vouchers/transactions sold in one day, then
you can select to have 10 payments (not 1) on that day.
• Bulk Payment: If there were 10 separate vouchers/transactions sold in one day, then you can
select to have 1 payment (not 10) on that day
How does the finance department reconcile these transactions?
The website automatically emails;
• Daily Summary
This email will list all vouchers sold the previous day.
• Monthly Summary
This email will list;
o Total monthly voucher sales and value
o Total monthly voucher redemptions and value
o Total number of vouchers that have expired along with their value
Quite a lot of detail is provided in this email, to make the finance departments life easy.
You can change who receives these emails/has access at any time.
• Real Time Reports
Your team will be provided training on how to pull real time reports from the back end of the
website.
Is there any reporting?
Yes, the backend system has comprehensive reporting;
• Select and specify date ranges
• View total orders, net sales, average order value, average items per order and more
• View by products, revenue, orders, variations, category, discount/promotion and more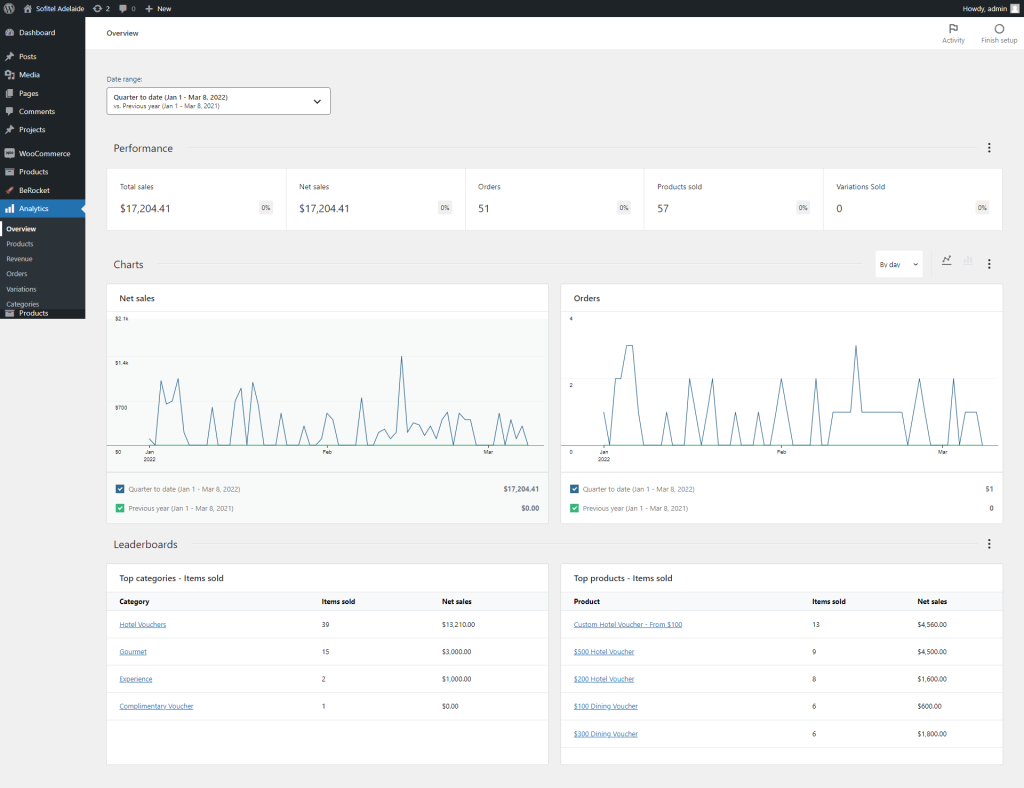 How are gift vouchers redeemed?
Staff would be introduced to the backend website portal to check and process redemption. It is
very easy and can be used anywhere you have access to the internet – there is no requirement for
software of any sort to be installed
What is your support like?
We typically respond to emails within 2/3 hours latest and are also available by phone anytime.